How Sand Damages Carpet
TUESDAY, NOVEMBER 26, 2019
We all love time at the beach, especially here in Sarasota. The sand between your toes, sand running through your fingers, sand in your swimsuit, sand… everywhere.
Okay, so sand can be problematic. Especially when it finds ways to hitchhike home from the beach with you. Sand can get into your home in all sorts of ways: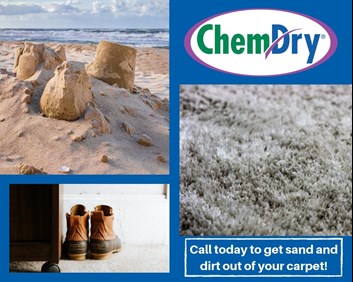 On shoes
In towels
In beach bags
On pets
Even in hair!
And sand can be incredibly damaging to your carpets.
Sand is naturally rough, and its sharp edges can slice through and destroy the tiny fibers that make up your carpet. This is especially true when grains of sand rub together (think about what happens when you rub something with sandpaper).
Damaged carpets have a tendency to look lifeless, dull, and perpetually dirty, so it is important to keep sand out of carpet as much as possible.
Sand is also heavy, and can settle deep beneath the fibers of your carpet, below what a vacuum can reach. While vacuuming helps- a lot- when sand is in your carpet, you may need a professional cleaner to reach deep into your carpet to remove the last of the sand and keep your carpet looking vibrant.
Community Chem-Dry uses our Hot Carbonating Extraction Process to clean deep in your carpet, by using carbonation to bring sand, dirt, and allergens to the surface of your carpet, and then gently whisking those particles away for good. Give us a call today, or check out our latest specials to save big on your next cleaning!
BACK TO BLOGS